St Michael's Tower is situated in the centre of Gloucester at The Cross.
The Tower is the surviving 15th century tower of the Church of St Michael the Archangel.
The Tower, as it is known in the city, is usually open from April to September between 10.30 am and 4 pm Mondays to Saturdays.
The Tower volunteers are always ready with a warm welcome and can advise about the history of the Tower, interesting sights to see in the city and historical information about Gloucester.
In the Tower you will find an exhibition on History of St Michael the Archangel church including a historical timeline dating back to before 1066.
Gloucester is famous for its bell founding industry, notably the Rudhall and Henshawe families. Two Rudhall bells forged in 1710 are on display and the bell tower holds a bell from High Wycombe that was cast in 1711. These can be chimed during your visit.
A range of films showing Gloucester through the ages are on show in the Tower.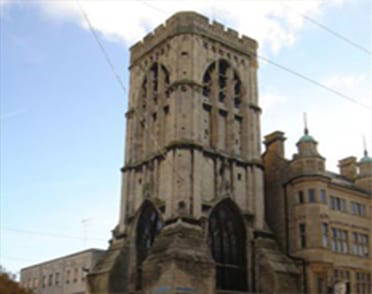 Guided City Walks
From April 1st until September 30th, guided walks of the historic City are available everyday (except Sunday) at 11.00 am.
Walks cost £7 per adult, £3 for secondary school children and £2 for primary school children. GL cardholders get £1 discount.
Meet your guide at The Tower where you can buy tickets.
TEAS & COFFEE AVAILABLE
Call in and see us.
Teas and coffees available for only £1
FREE WIFI
Call in and see us.
Free Wi-Fi is available.