Gloucester History Festival
Gloucester History Festival 2021
Saturday September 4th – Sunday September 19th
The History Festival programme can be found HERE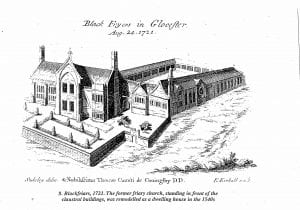 Gloucester Day
Gloucester Day celebrates the end of the Civil War siege of the city in 1643. when King Charles II returned to the throne after the Civil War in 1660, he punished Gloucester for supporting Cromwell by reducing the city boundaries. This meant the area of Barton was outside the city and not under the control of the Gloucester Mayor. Barton elected a "mock mayor" to poke fun at Gloucester.
This tradition had been revived in recent years with a parade led by the real Mayor and Sheriff of Gloucester plus the Mock Mayor, Town Crier, historical characters, marching bands and performers in the morning with a Mock Mayor Making Ceremony. The parade was followed by a Thanksgiving Service and the the Gloucester Day Parade in the afternoon.
Click the link to see a clip of the parade in 2018 courtesy of David Champion. Click Here
City Voices
A series of talks, activities, workshops and musical events from local experts in beautiful locations. Many of the events are free.
More details available HERE
Discover Gloucester's Rainbow Street
Join with internationally acclaimed colour visionary and Gloucester's own "Queen of Colour", Tash Frootko as she takes you on a livley and informative tour of the Rainbow Street which she created in 2020.
Wednesday September 8th, 4.00 – 5.00 pm. Meeting place for the guided tours will be outside 48, St Mark Street, GL1 2QQ.
To book tour, click HERE
Can't make the tours? Pick up an illustrated street map from the fuchsia coloured house and immerse yourself into a QR code exhibition on the Rainbow Street itself. this will be available for the duration of the festival 4 – 9th September.