St Michael's Tower
Achievements
In 2004, Gloucester Civic Trust were concerned that the Tower was being used as a storage area and negotiated a lease on the building with the owners, Gloucester City Council.
The Trust then embarked on a mission to have St Michael's Tower removed from the Buildings at Risk Register and to regenerate this part of the City centre, bring life to it once more with visitors and activities.
After four years of hard work, Heritage Lottery Funding of £199,000 was approved in 2008.
The Trust then worked with Quattro Design, English Heritage and our landlords, Gloucester City Council and local communities to complete the renovations needed and bring a project together which included a new website, new literature, a series of six audio trails and a heritage arts programme.
In 2009, St Michael's Tower became the headquarters of the Trust and "A Tower of Learning", where visitors can come to learn about Gloucester's rich heritage.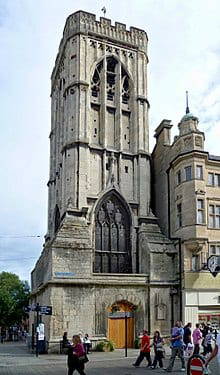 Photos taken during restoration