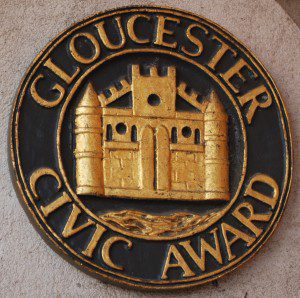 Gloucester Civic Trust is once again joining forces with the City Council, The Citizen and Marketing Gloucester to reward those involved in achieving high standards of architecture & design as the city undergoes its biggest ever regeneration.  A number of significant schemes have been completed since the last awards in 2012, along with several more minor, but nonetheless important projects.
There are seven categories under which nominations can be made:
Best New Building or Extension –

Something which reflects the best in modern architecture.

Best Major Restoration or Sensitive Conversion –

Here we are looking for significant schemes, which have ensured the future of a large historic building.

Best Minor Restoration or Sensitive Conversion –

This category is for works to individual dwellings or other historic structures i.e. statues/monuments, which do not fall within category 2.

Best New or Improved Shopfront –

Includes cafes, restaurants and financial institutions where the shopfront has been replaced or significantly altered.

Most Improved Public Area –

This could be a park, playground, revamped street/open space, attractive floral display or public art project. It can have been either public or community funded, or a mixture of the two.

Best Housing Scheme –

Housing Association or Private

Best Sustainable Scheme –

This could be a new building, an adaptation of an existing building or simply a renewable energy or flood prevention scheme.
The development must have been completed in the last three years, lie within the city boundary and not have been nominated for the 2012 awards.  (See rear of nomination form for details of schemes which received awards in 2012).
Anyone can make a nomination/s by using the link to the nomination form above or the coupon printed in the Citizen, writing to Caroline Ansell, Environmental Planning Service, Gloucester City Council, Herbert Warehouse, The Docks, Gloucester, GL1 2EQ or visiting www.gloucester.gov.uk/civicawards.
The closing date for nominations is 9th October 2015.
The panel of judges will include an independent architect, the Editor of The Citizen and representatives of the Gloucester Chamber of Trade, the City Council and Gloucester Civic Trust.
The winner and any commendation in each category will receive a framed certificate at an award ceremony to be held at The City Council's Civic Suite, Gloucester on the evening of Wednesday 18 November 2015.