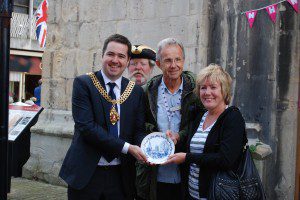 Gloucester has welcomed its 100,000th customer on historic tours conducted by Civic Trust guides.
Elizabeth Elton from the Linden area of Gloucester received a commemorative plate and mug from the Mayor of Gloucester, Councillor Sebastian Field, to mark the milestone in the development of tourism over the last 40 years.
Luckily, the ceremony coincided with the Heritage Open Days and Gloucester History Festival, when thousands of people are able to see inside some of the city's most ancient and intriguing buildings, which are not always open to the public.
Twenty other people who had booked on the city centre tour on Saturday each received a city mug to  mark the occasion.
The Mayor said: "The Civic Trust is an amazing organisation. Not only does in organise many different guided tours of Gloucester, but is has also restored several old buildings in the city, including its headquarters here at St. Michael's Tower, which was derelict for many years.
"It is going from strength to strength, and I hope it continues for another 40 years and attracts another 100,000 people to hear the story of our city's long and fascinating history."
After the tour, for which Hugh Worsnip was the guide, Elizabeth said: "I have learned a lot  about the city in which I was born and bred. Now I am going to buy the book and find out some more."